Mass Cards
Item# H-113 Brass Mass Cards
Price: $1125
Item Information: H-113-114
Traditional Latin Mass Cards (Set of 3) with fold out legs to stand up cards.
Polished Brass and Lacquered.
Sizes:
H-113 (Center): 19 3/4" x 15" Frame, 5 1/4" x 10 1/2" Each Window (Side): 8" x 14" Frame, 5 1/2" x 10 3/4" Each Window
Weight (lbs):
5.8 (Center) 2.2 (Per Side)
Available Finishes:
Brass, Silver plated, Gold plated


Email To Friend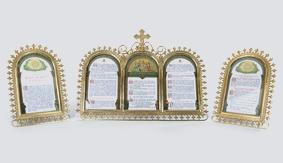 Mass Cards
Since 1881 Adrian Hamers Inc.  has supplied the Catholic Church with traditional Latin Mass Card Sets.
With many choices and styles to choose from this traditional set is a must.
Gold Mass Card Sets
Silver Mass Card Sets
Brass Mass Card Sets
Traditional Mass Card Sets
Latin Mass Card Sets
Gothic Mass Card Sets
Baroque Mass Card Sets
French Mass Card Sets
WE ACCEPT