Sanctuary Lamp
Item# H-61SL Standing Sanctuary Lamp
Price: $1995
Item Information: The original Adrian Hamers Gothic Standing Sanctuary Lamp.

The highest quality craftsmanship you have come to expect for more than 125 years.
There is only one Adrian Hamers company producing the best quality for our clients.
Buy with confidence and discount.
Polished Brass and Lacquered Standing Sanctuary Lamp.
Technical Information:
55 1/2" tall, 6 3/4" diameter globe basket, 10 3/4" triangular base sides.3" cut base corners. Holds standard eight day globe.
Weight (lbs):
19
Matching Items:
Matches all our following Altar product collections. H-34, H-35 H-61, H-111, H-117, H-118, H-123, H-124, H-125


Email To Friend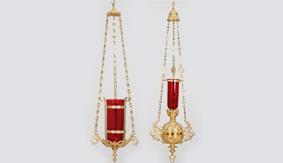 Sanctuary Lamp
Since 1881 Adrian Hamers Inc. has produced the finest Sanctuary Lamps in the world. We offer standing sanctuary lamps, Altar top sanctuary lamps and hanging sanctuary lamps. 
Hanging Sanctuary Lamp
Standing Sanctuary Lamp
Altar Top Sanctuary Lamp
Solid Brass Sanctuary Lamps
Church Sanctuary Lamp
Table Top Sanctuary Lamp
Wall Mounted Sanctuary Lamp
Sanctuary Lamp Wall Bracket
Brackets to mount Sanctuary Lamps
Eternal Flame Lamps
Tabernacle Lamp
Votive Lamp
Gold Sanctuary Lamp
Silver Sanctuary Lamp
Electric Sanctuary Lamp
Sanctuary Lamp Globes
WE ACCEPT