Ciboria
Item# ciborium 3- Newly Commissioned and Antique Solid Sterling Silver Ciborium in pure 24kt. Goldplate
Item Information: We have hundreds of New and Antique Ciboria to choose from.
Call for more information
Email To Friend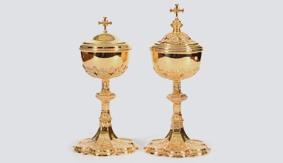 Ciboria
Since 1881 The world famous Adrian Hamers Inc. has been known to produce the finest Chalices and Ciboria in the world. Our antique Chalices and Ciboria have been in service worldwide for well over a hundred years. 
We still produce custom commissioned ciboria and have a full selection to choose from in our New York Showroom, By appointment only.
Antique Sterling Silver Ciborium
Gold Plated Ciborium
Silver Plated Ciborium
Traditional Ciborium
Gothic Ciborium
Byzantine Ciborium
Baroque Ciborium
Carolingian Ciborium
Stacking Ciboria
Church Ciboria
WE ACCEPT