Monstrances
Item# H-189G2 Gold Luna Custodial
Price: $850
Item Information: H-189G-2
Gold plated  Monstrance/Luna Holder with adjustable inside track.
Glass front window and glass back door( 2 glass panels).
Technical Information:
.
Sizes:
8 1/4" Ht, 5" W, 3" D, 3 1/2" Base Diameter
Weight (lbs):
1.6
Available Finishes:
Brass, Gold plated


Email To Friend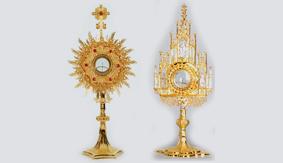 Monstrances
 Since 1881 Adrian Hamers Church Interiors has produced the worlds finest Monstrances / Ostensorium for the benediction of the Blessed Sacrament. Most antique monstrances produced are still in service for adoration of the Blessed sacrament all around the world.
We have many from Antique monstrances to newly commissioned Ostensory, Some which can carry the large 6" host. Custom made monstrances are also available according to your requests and budget.
Ostensory
Ostensorium
Monstrance
Gold Guilt Monstrance
Gothic Monstrance
Tabernacle Monstrance
Chapel Monstrance
Luna Box
Lunula
Lunette
Eucharist Custodial
Silver Monstrance
Relic Monstrance
WE ACCEPT