Paschal Candlesticks
Item# H-98PAS48 Paschal Candlestick
Price: $1420 ea.
Item Information: H-98PAS48"
Polished Brass and Lacquered Paschal Candlestick (48")
Matches our complete line of H-98 Altar products.
Technical Information:
Socket: 2 1/2"
Sizes:
44" Ht (47" w/ Socket), 8" Drip plate Diameter, 11" Base Diameter
Weight (lbs):
14.4
Available Finishes:
Brass, Silverplate, Goldplate
Matching Items:
For a visually pleasing Altar our H-98 Altar product collection includes, Multiple height candlesticks-8.5", 12", 18", 24", 42", 48". Paschal candlesticks, Sanctuary lamps, Altar crosses, Censer stands, Processional crosses, Base stands, Processional candlesticks, Missal stands and more. Simply search our H-98 collection.


Email To Friend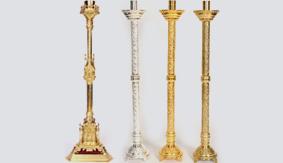 Paschal Candlesticks
Since 1881 Adrian Hamers Church Interiors has been producing the worlds finest Church Paschal Candle Sticks.
Most Antique Paschal candlesticks we produced are still in use throughout the world.  From solid sterling silver paschal candlesticks to solid cast brass paschal candle holders.
Gothic Paschal Candlestick
Byzantine Gothic Candlestick
Easter Vigil Candlestick
Baptism Candle Stick
Funeral Candle Stick
Alpha Omega Candlestick
Sanctuary Candlestick
Paschal Candle Stand
Solid Brass Paschal Candle
Gold Paschal Candle
Silver Paschal Candle
WE ACCEPT