Reliquary
Item# H-23S Silver Relic Shrine
Price: $995
Item Information: H-23S
Traditional Silver Plated Relic House / Relic Shrine.
**RED WEDGE SHOWN IS NOT INCLUDED. PLEASE CALL US FOR INFORMATION AND PRICING**
Technical Information:
Front Glass View: 4 1/2" x 2 1/2" (un-obstructed view) Glass View Side: 2 1/4" x 2 3/4" Relic Compartment Inside: 5"x 2 3/4"x 3 1/4"H, Base 7 1/4" x 2 1/2"
Weight (lbs):
5.2
Available Finishes:
Brass, Silver plated, Gold Plated


Email To Friend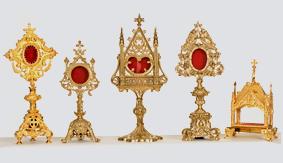 Reliquary
Since 1881 Adrian Hamers Inc. has produce the finest Holy Relic Shrines and Reliquaries for public veneration.
We offer a full line of Gold Guilt Reliquaries, Silverplated Relic Shrines and solid Brass Relic Houses.
Reliquary
Relic Shrine
Relic House
Holy Relic Theca Box
Theca for Holy Relic
Ossuaries
Brass Relic House
Silver Relic Shrine
Gold Reliquary
Veneration Reliquaires
Holy Relic Boxes
Relic Tabernacle
Angel Reliquary
True Cross Relic Shrine
Relics of Saints
Cathedral Relic Houses
Holy Relic Containers
WE ACCEPT