Bells & Gongs
Item# H-168 Bell and Gong Mallet
Price: $145
Item Information: H-168
Wood Mallet with brass detail for Gongs and Bells.
Brass ball end for chimes.
Sizes:
9 1/2" tall
3 3/4" wide
1 3/4" diameter at head.
Weight (lbs):
0.2


Email To Friend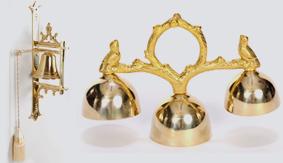 Bells & Gongs
Since 1881 Adrian Hamers has supplied religious services with ringing bells.
We offer a full supply of church bells from the smallest of chapel bells to the largest of full foundry church steeple bells.
Chapel Bells
Wall mount Sanctuary Bells
Communion Bells
Sanctus Bells
Sanctuary Bells
Hand Church Bells
Church Service Bells
Wedding Bells
Funeral Bells
Tower Bells
Antique Church Bells
Prayer Bells
Sermon Bells
Holy Thursday Clacker
WE ACCEPT