Reliquary
Item# H-131 Large Relic Shrine
Price: $3795
Item Information: H-131
Extra Large Relic Shrine/ Relic House. Our largest reliquary/Shrine gives you the best opportunity to display the largest of relic collections.
Polished Brass and Lacquered.
**RED WEDGE SHOWN IS NOT INCLUDED. PLEASE CALL US FOR INFORMATION AND PRICING**
Technical Information:
Front Glass View: 6" x 9 3/4" *Each Window Panel, 3 windows on front and back, one window each side. Relic Compartment Inside: 21 1/4 "L x 7 1/2 " x 14"H
Sizes:
30" Ht, 25" W, 11" D
Weight (lbs):
39.1


Email To Friend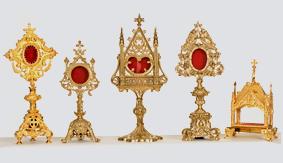 Reliquary
Since 1881 Adrian Hamers Inc. has produce the finest Holy Relic Shrines and Reliquaries for public veneration.
We offer a full line of Gold Guilt Reliquaries, Silverplated Relic Shrines and solid Brass Relic Houses.
Reliquary
Relic Shrine
Relic House
Holy Relic Theca Box
Theca for Holy Relic
Ossuaries
Brass Relic House
Silver Relic Shrine
Gold Reliquary
Veneration Reliquaires
Holy Relic Boxes
Relic Tabernacle
Angel Reliquary
True Cross Relic Shrine
Relics of Saints
Cathedral Relic Houses
Holy Relic Containers
WE ACCEPT