Altar Cross
Item# H-126 Large Altar Cross
Price: $2290
Item Information: H126
Very Large Traditional Gothic Style Altar Cross. For the largest of sanctuaries. Stem is adorned with 3 silver plated statue figures.
Polished Brass and Lacquered with silver plated corpus and INRI.
Matching Processional cross and other Altar appointments are available and sold separately.
Sizes:
37 1/4" Ht, 15 1/4" W, 10 1/2" Base Diameter, 8 3/4" x 11 1/2" Corpus
Weight (lbs):
18.2


Email To Friend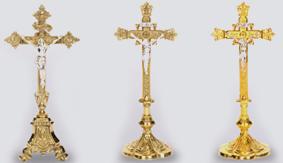 Altar Cross
Since 1881 Adrian Hamers Inc. has offered the finest in Church furnishings worldwide.
For the Altar we offer a full line of Solid Brass Altar Crosses and Altar Crucifix.
Traditional Altar Cross
French Style Altar Cross
Baroque Altar Cross
Altar Top Altar Cross
Processional Altal Cross
Byzantine Altar Cross
Double Corpus Altar Cross
Solid Brass Altar Crucifix
WE ACCEPT