Paschal Candlesticks
Item# H-110-4WPAS Marble Paschal Candlestick
Price: $3390 ea.
Item Information: H-110-4WPAS - *CUSTOM ORDER - *NO SHIPPING - *PICK UP ONLY.
60" Traditional Cathedral Paschal Candlestick with 4 White Marble Stems.
Polished Brass and Lacquered.
PLEASE READ TECHNICAL INFORMATION.
Marble is a natural material - Size, alignment and color will vary in each candlestick.
Technical Information:
Please Note: These candlesticks are custom order only. Marble is a natural product with color and size variations. Each candlestick will vary in size and color based on the hand cut marble in each particular piece. Each Candlestick can have multiple size and alignment variations. Sorry - WE CANNOT SHIP THESE ITEMS- ONLY CUSTOM CRATE AND PALLET SHIPPING OR PICKUP AVAILABLE
Sizes:
61" Ht., 5" Drip plate Diameter, 10 1/2" Base Diameter, Candle Socket: 3"
Weight (lbs):
36
Matching Items:
Matches our full H-110 series, Simply Search H-110


Email To Friend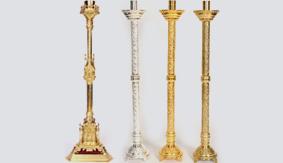 Paschal Candlesticks
Since 1881 Adrian Hamers Church Interiors has been producing the worlds finest Church Paschal Candle Sticks.
Most Antique Paschal candlesticks we produced are still in use throughout the world.  From solid sterling silver paschal candlesticks to solid cast brass paschal candle holders.
Gothic Paschal Candlestick
Byzantine Gothic Candlestick
Easter Vigil Candlestick
Baptism Candle Stick
Funeral Candle Stick
Alpha Omega Candlestick
Sanctuary Candlestick
Paschal Candle Stand
Solid Brass Paschal Candle
Gold Paschal Candle
Silver Paschal Candle
WE ACCEPT